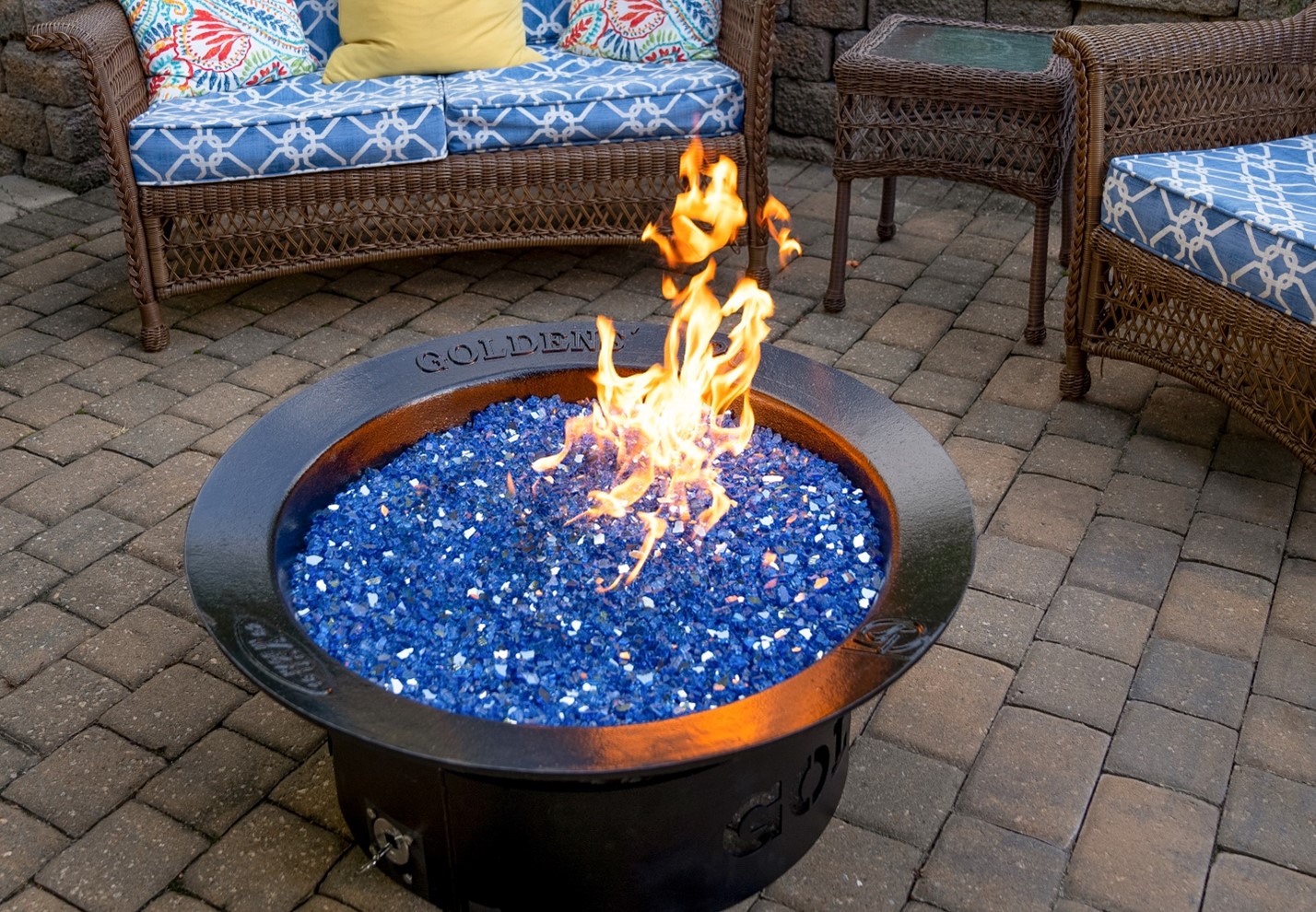 Goldens' Cast Iron Fire Pits
Goldens' Foundry began producing syrup kettles back in the late 1800's. While their syrup kettles were (and are!) a great product for syrup makers, they realized that their kettle design would be perfect for an outdoor fire pit. Cast iron construction ensures years of enjoyable use. Proudly made in the USA.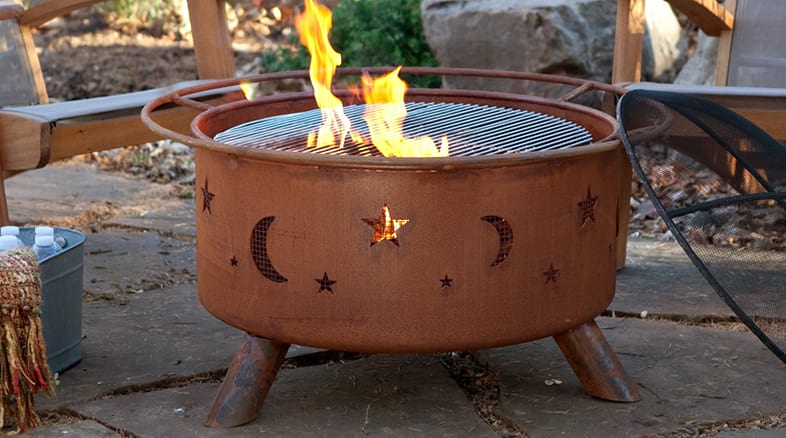 Landmann Wood Burning Fire Pits
Everything Landmann does is centered around producing a quality product, meant to be enjoyed by our customers for many years.  Their design team in Fairburn, GA is constantly working on innovating new and exciting products that are truly cutting edge.  People that love fire, love to use their products.  The reason is they are built to last, and are designed to allow our customers easy of use, and performance that is second to none.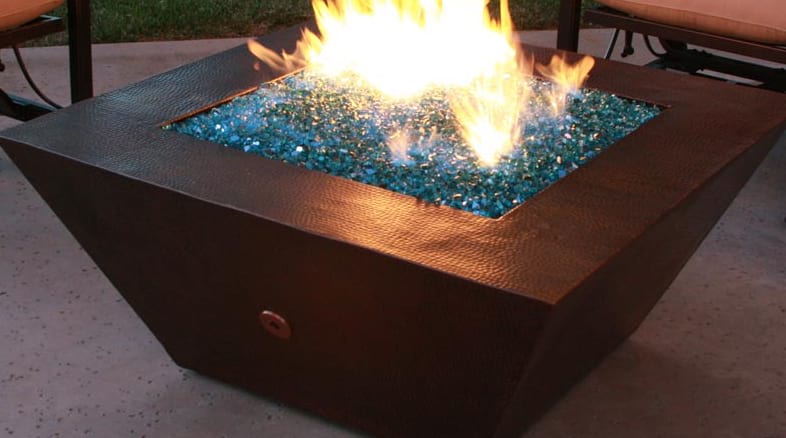 Hearth Products Controls Fire Pits
This Copper Bowl Series is available in the Fire Bowl or the Fire & Water Bowl models. Both are fitted with a CSA Certified match-lit insert or remote electronic ignition fire pit insert. These come in an oil rubbed look with either a hammered finish or a smooth finish based on model. HPC manufactures a wide selection of outdoor fire features to give your backyard or business the ambiance and feel of a resort. Choose from one of their beautiful complete gas fire pits, tiki torch, or just an individual component such as a fire ring.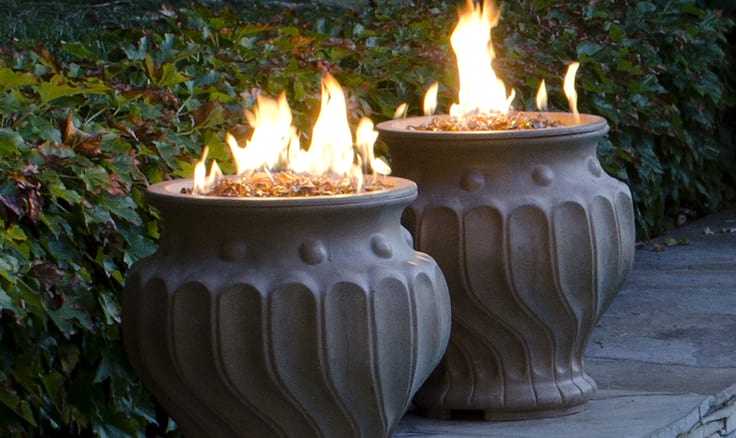 American Fyre Designs Fire Pits
American Fyre Designs (AFD) products come in a variety of innovative, modular designs made from durable, lightweight Glass Fiber Reinforced Concrete (GFRC). GFRC derives its strength from a high dosage of alkali-resistant glass fiber and acrylic polymer that results in durable concrete to sustain the elements.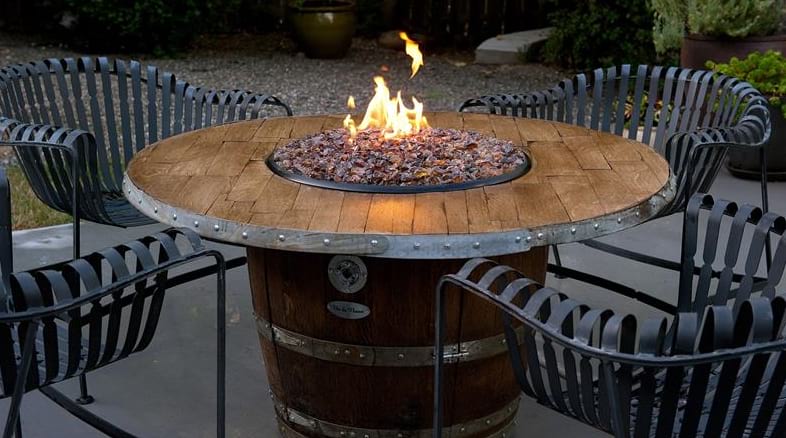 Vin De Lame Winebarrel Fire Pits
For the enthusiast, drinking and tasting wine is more than a hobby, it's a lifestyle. Add interest to your outdoor living space while acknowledging your love for the grape! The Reserve by Vin de Flame is a half barrel fire pit with a tabletop.  It is perfect for accenting spaces around your yard or venue with taking up too much space.  Choose from 40,000 BTU or 80,000 BTU burners and your choice of fire glass color.  Barrel encloses a standard propane tank and is on casters for easy movement and table top is a relaxing 26 inches tall. Choose from three table top options; Rustic Wood Top, Wood Stave or a Granite Top in 42" or 48". Vin de Flame wine barrel fire pit tables bring the flavor of the vineyards into outdoor living spaces. Each fire pit is unique and tells its own story because it's made out of a real wine barrel that was used in the production of wine.